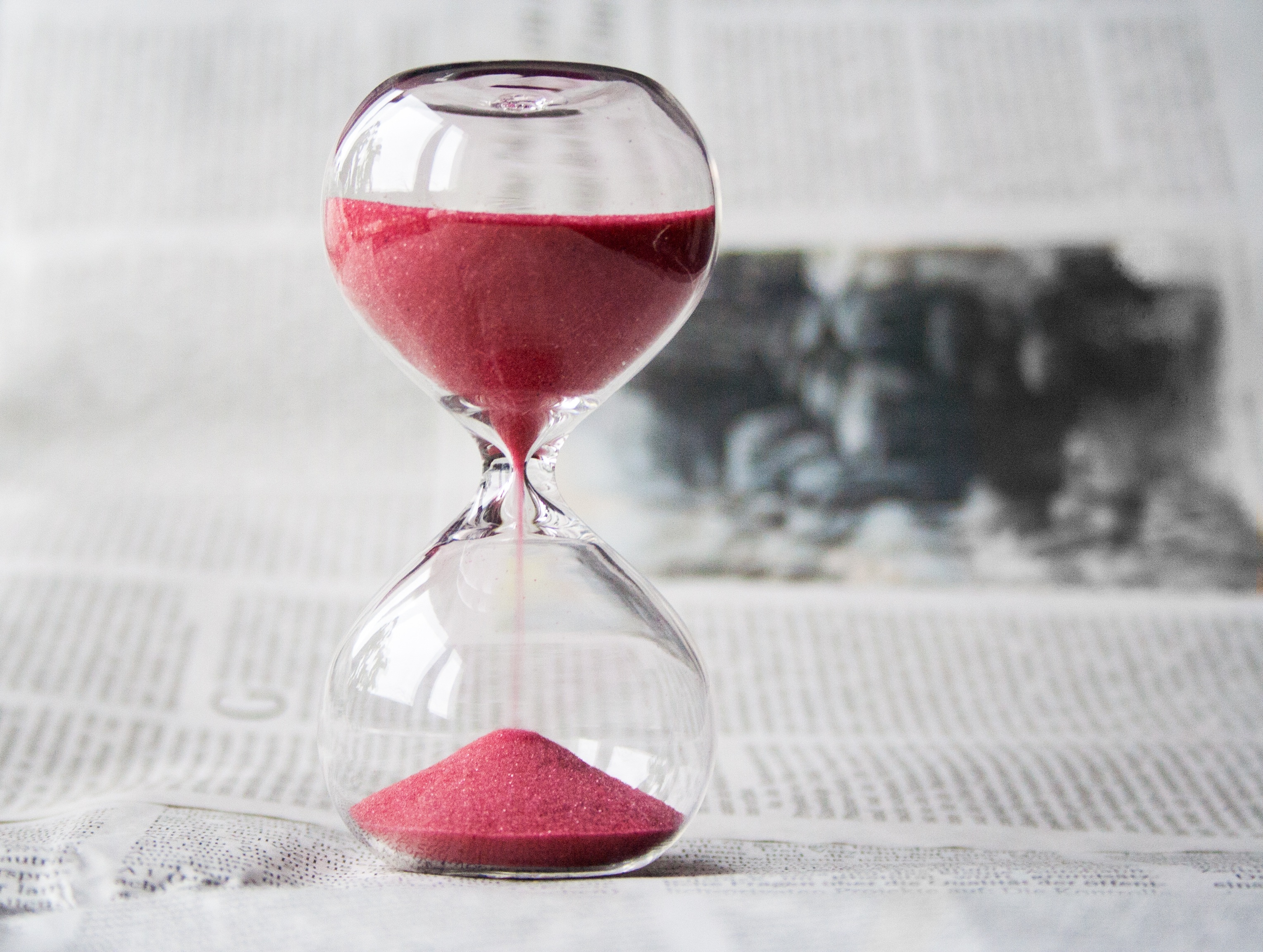 ​Five steps to improving your time management
Does this sound familiar? It's the end of another busy working day, and even though you've worked a full eight hours or more, you don't feel as if you've accomplished anything that you hoped to.

Unfortunately, it's all too easy for this to happen. Faced with frequent interruptions, meetings and urgent last-minute tasks, we can easily be busy all day without making any progress on high-priority projects and goals. So how do we stop this from happening?
1.Create a list
Personally, I love a list. I find that having a 'to do' diary (separate from one of my many notebooks) with a whole page for each day of the week, is an essential for me. The process of sitting at my desk each morning and writing out my main tasks for the day (and most importantly prioritising them) really gets my head into the 'working day' frame of mind. I then look at my Outlook diary for the day, to make sure my list is achievable. This also helps me to prepare for the next week and even month ahead, as I can plan the tasks that are less urgent, for the days when I know I will have more time available.
2.Choose your tools wisely
Use a planning tool that works for you. Some will find my pen and paper method a bit too 'old school' and would prefer to use an app or software such as Business calendar or Google calendars. Whatever option you use, make sure it's the most effective tool for you, based on your personal taste, budget and the structure of your job.
3.Think about the pattern of your week
By this, I mean consider the usual structure of your days/weeks/months and keep this in mind when planning. Think about the resources that you have available to you throughout the week, the busy and quieter periods, and when you feel that you are most productive. For example, I know that generally on Mondays, the Juniper team in the office will consist of the account managers and the managing director. This combined with the start of the week, means that booking in account manager meetings is ideal. Tuesday - Thursday is generally the busiest period within our office, where our time is client-focused, and most members of staff are present. Therefore, our weekly team meeting on a Tuesday morning really helps to bring the team together, to discuss priorities for the week, and to voice any vital updates or concerns. Fridays tend to be less client focused days, as often we find our key stakeholders are away from the office, and therefore we focus more on the internal side of the business (such as marketing actions). In terms of productivity, I know I am more productive and focused earlier in the day. Therefore, I try and complete any challenging tasks in the morning and allow myself time to regain focus after lunch.
4.Don't be a hero
Make sure you are realistic with your time. Adding back-to-back meetings into your diary may seem more time-efficient, but are you really going to be as focused and productive on your next call or meeting, if you are still thinking about the previous one? I always try to add a buffer in when possible between projects/calls, as they help to:
Get my head into the next topic, and to shift focus from the previous meeting
Provide contingency time to handle any emergencies or any change in priorities
Reduce the pressure of the day and allow me to be that little bit kinder to myself
5.Communicate
Finally, communication with your co-workers is vital. If you have a particularly busy day, where you are going to struggle to take on anything else, it's ok to let them know. This will both manage their expectations and allow them to offer any support that they can. It's also ok to say no. If last minute requests or meetings pop up that you simply cannot manage within your workload, think about if they are a priority over your other tasks. If they're not, then be honest and explain that to the team.
There are plenty of other tips that can help to improve your time management (see the Forbes article link below). Which of these are you already doing, and which could you implement or improve on? Taking the time to learn and think about time management techniques will have huge benefits both now and throughout your career.
https://www.forbes.com/sites/johnrampton/2018/05/01/manipulate-time-with-these-powerful-20-time-management-tips/#2941354b57ab