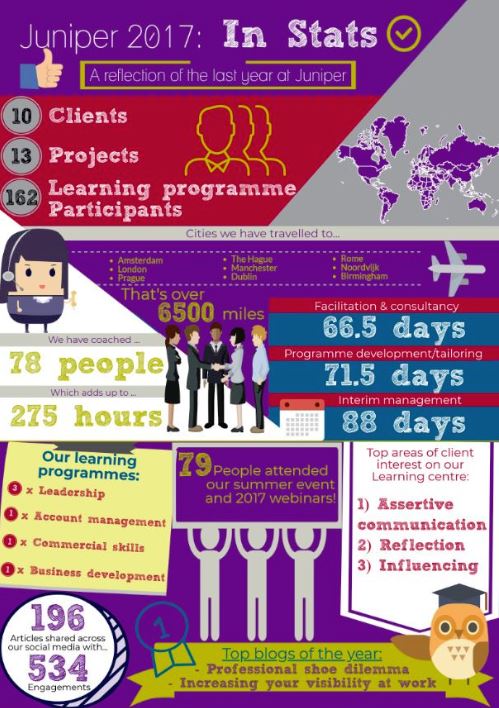 Time to reflect...
At The Juniper Company, we always take some time in the new year to reflect on what we achieved the previous year. With September through to December our busiest months, its easy for us to lose track of our successes, so this time in January is a brilliant time for us to re-group.
We bring the whole team together to chat about all we achieved and are proud of individually and as a group, as well as what we have learned. Personally, I find the December break gives us all an opportunity to go away and reflect individually, then return clear-headed and refreshed, ready for the conversation.
This discussion brings together the team and perfectly tees up our strategic planning for the next year. It takes some time (we set aside 4-5 hours to reflect and plan for the next year), but as with every Juniper meeting, there's plenty of food and laughter. We leave energised, ready to tackle what's coming up next!
If last year didn't end as well as you hoped, or perhaps like us, you didn't get the chance to stop and think, now is the time to reflect. Why not take the time to consider what you achieved last year? What efforts and resources did it take? Once you know this, you can set realistic goals for the year ahead.
If you want this year to be different, think about the incremental changes you will make. What is in your control? What can you change? Who can you speak to for positive influence?
We like to have visual reminders of our achievements and goals for the year up in the office – when things get tough, it's helpful to refocus our priorities and have a reminder of what we can do. This year, Emily created a great infographic on our 2017 statistics, which we wanted to share with you. We'd love to hear about your successes too – drop us an email or send us a tweet to @TheJuniperCo.
We wish you all the success in 2018!