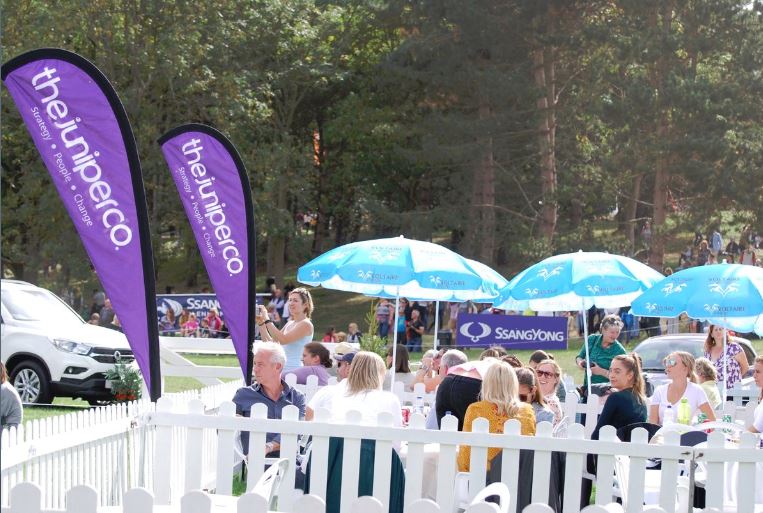 Watching the action at Blenheim Palace International Horse Trials
We had a fabulous time at Blenheim International Horse Trials last weekend watching our sponsored event rider Ginny Howe. Blenheim Palace is a beautiful setting and the weather couldn't have been better to enjoy the day with Juniper connections in our riverside marquee. It was lovely to catch up with old and new friends, whilst watching the sport. Eventing is currently going very well for Great Britain, having just triumphed in Tryon (USA) at the World Equestrian Games winning a team gold medal. It is such a good time to be following this incredible sport.
Thank you to WAG Design for providing us with our wonderful flags. They looked great beside the marquee, a perfect viewing spot for the challenging water jump on the cross country course. We are looking forward to using the flags at more outdoor events next year!
Of course a big well done has to go to the star of the show, Ginny. It was an amazing achievement to have three horses competing at this prestigious event, with all of them jumping clear around the tough cross country course. For two of the horses, Cruise on Inny and Trendy Captain Clover this was their first 3* competition. They are both young horses, with Cruise On Inny finishing in the top 20. This is extremely exciting for the future, for Ginny, the horses' owners and for us as a sponsor. Ginny's third ride Undalgo De Windsor, also produced a competitive result and is now qualified for 4* (the highest level of competition) which is again, very exciting! We look forward to continuing to support Ginny throughout the 2019 season.