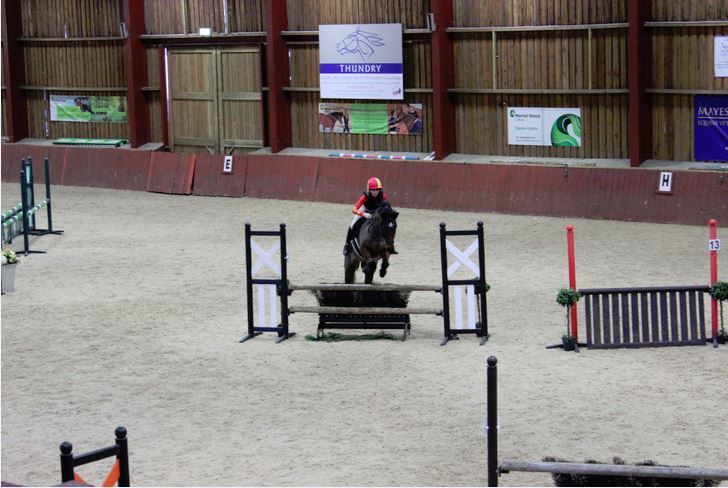 The Juniper Company sponsors Pony Club's Eventer's Challenge
On Saturday 14th January, The Juniper Company sponsored an Eventer's Challenge competition held at Merrist Wood College for the Staff College and Sandhurst Hunt branch of the Pony Club fundraising. We were very happy, not only to sponsor, but also to go along on the day and to judge the style element of Classes one, four and five.
So, what is an Eventer's Challenge?
An Eventer's Challenge is where riders can practise their show jumping alongside cross country, in the same arena. The combination is split partly between the show jumping element over coloured poles and the cross country, using rustic jumps, providing greater distances between the fences and an opportunity to gallop around the arena. The event is a lot of fun and requires quite a lot of skill. It can be done indoors, which is great at this time of year, when the weather is unpredictable!
The competition was across five classes, ranging from the bottom of the scale (75-80cm high) right up to 105cm at the end of the day. Younger children and ponies were competing in the morning and we saw more experienced horses and riders as the day progressed. It was a thrilling competition with a tight time to chase, each class getting progressively more difficult. I particularly liked judging the style for classes four and five, which were for the older riders. Those with style were often also high on the leader board at the end of the day.
What does a style judge do?
I was looking for harmony between horse and rider and whether they were listening to one another, their approach to each jump and how they tackled the course, the position of the rider and the picture that the combination created.
We were able to present the prizes to classes four and five at the end of the day - saddlecloths and head collars for the horses and lovely rosettes for the children.
At The Juniper Company, we are always keen to be involved with learning opportunities – this was a great one for ponies, horses and riders at this stage of the season. Well done to everyone who was involved, in particular, the Staff College and Sandhurst Hunt Pony Club committee and volunteers for making such a great day for so many children. A lot of effort, time and energy goes in to running these events – all organised by volunteers!
Congratulations to the winners of classes one, four and five:
Class one – Abbie Todd
Class four – Carys Evans
Class five – Imogen Howse